Radar Renegade R7 Tyres Available in Leicester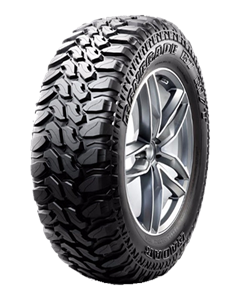 ---

Renegade R7
More information
The Renegade R7 is a mud terrain tire that has been designed specifically for extreme off-road applications. This range fits SUVs and light trucks and is suitable for vehicles with lift-kits. It features a reinforced 3 ply casing for high durability and state-of-the-art Stone Ejector Technology which prevents stone retention and subsequent tire damage. An ideal choice for drivers who want no compromise with off-road traction and handling.
Features:
Aggressive pattern featuring a high void ratio and open shoulder design.
Unique state-of-the-art stone ejector technology.
Reinforced 3 ply casing construction.
Special tread compound and wide footprint.
Benefits:
Outstanding traction in all conditions.
Helps prevent stones from drilling and lodging in the tread.
Superior overall resistance to damage.
Enhanced tread life and braking on all surfaces.
---